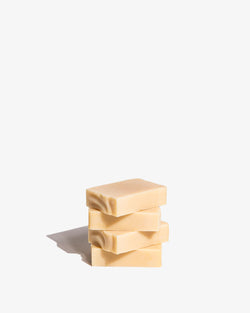 Goat Milk Bar Soap
This creamy Goat Milk Bar Soap will help to nourish your skin and keep it soft and hydrated. Every bar is made with locally sourced Goat Milk and other added ingredients like cocoa butter and avocado oil to provide your skin with critical nutrients with every use.
AVAILABILITY:
In stock

HIGHLIGHT:
Locally sourced, farm fresh Goat's milk. Great for sensitive skin

FRAGRANCE:
None

INGREDIENTS:
Olive oil, organic coconut oil, farm fresh goat milk, sodium hydroxide, avocado oil, sunflower oil, castor oil, shea butter, cocoa butter

WEIGHT:
5 ozs

INSTRUCTIONS:
Keep dry between uses. Discontinue use at the first sign of irritation.
Made in Barbados, Handmade by Kae is a handcrafted, natural skincare and candle brand that focuses on providing eco-friendly and carefully crafted soaps, oils, and cleaning accessories. Made with women in mind, this family business came from the founder's need to find sustainably made skincare products with a pleasant scent and amazing feel to delicate skin. Driven by a passion for creativity and craftsmanship, this brand combines fun and function to create a line that is beautiful and nourishing.