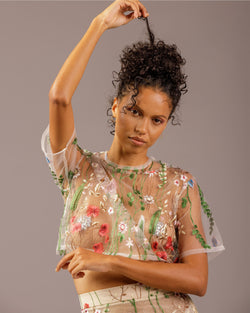 WYLDFLWR
Meadow Crop Top in Lush
A mesh crop top featuring a delicately embroidered field of blooming Wyld Flwrs and butterflies.

All Wyld Flwr garments are produced in limited quantities by hand in Trinidad and Tobago.
Fabric composition: 100% polyester
Care Instructions: dry-clean only
MADE TO ORDER:
The turnaround time on this piece is 14 business days.

Based in Trinidad and Tobago, WyldFlwr by Anya Ayoung Chee is a resort wear label inspired by Trinidad Carnival and Burning Man. As a tribute to her love for Caribbean culture and her experience working in the Carnival industry, the designer incorporates beading and embroidery that add a festive look and glamourous shimmer to her pieces. With a desire to better her community through her entrepreneurial endeavors, the 2011 Project Runway winner purposely sources fabric locally to her island and outsources the manufacturing of her pieces to a collective of women located in Trinidad and Tobago.
XS - Chest (inches) 32.3 | Waist (inches) 24.4 | Hips (inches) 35.5
S - Chest (inches) 33.9 | Waist (inches) 26 | Hips (inches) 37
M - Chest (inches) 35.4 | Waist (inches) 27.6 | Hips (inches) 38.6
L - Chest (inches) 37.8 | Waist (inches) 29.9 | Hips (inches) 40.9
XL - Chest (inches) 40.2 | Waist (inches) 32.3 | Hips (inches) 43.3
XXL - Chest (inches) 42.5 | Waist (inches) 34.6 | Hips (inches) 45.7