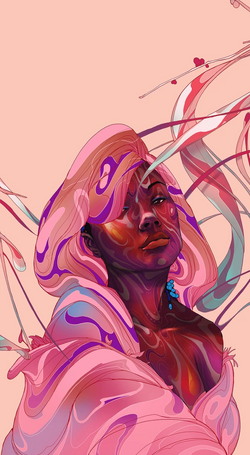 Single Origin
Pure Chocolate is a Jamaican artisan chocolate brand born out of a desire to give back and develop a long dormant and under appreciated homegrown product in Jamaica - its fantastic cocoa. Pure Chocolate is a direct trade brand that works closely with local farming partners to drive a mutually rewarding and meaningful relationships. 
Single Origin:
Jamaica, home to the Blue Mountains and its world-famous coffee, is idyllic in many ways. Lush rainforests and abundant fertile soil give for some of the best quality land needed to grow exceptional cocoa.  

Pure Chocolate uses organically grown, single origin beans that are a mix of Criollo and Trinitario varieties, sourced directly from the John Crow Mountains, overlooking the Blue Mountains. 

Artwork by Taj Francis
​
Before leaving the Pure Chocolate lab, each item is checked for quality after which it is carefully packaged. However, we cannot control what happens in transit and we are unable to offer returns due to the perishable nature of these products.
Pure Chocolate orders are consolidated and shipped on Mondays, Tuesdays and Wednesdays. 
During summer months, we generally avoid allowing your chocolate to sit in transit over weekends and holidays. Therefore, if the shipping option overlaps a weekend or holiday, your order may ship the following week.
Due to COVID-19 restrictions, deliveries might experience unforeseen delays on both international and domestic orders.
International Shipping
All international orders are shipped via DHL Express within five (5) business days of confirming your purchase and payment is received.
You will receive an email with DHL tracking information for your order as soon as it ships. For other tracking questions or concerns, please visit www.dhl.com.
Please note that your order might be subject to additional import or custom duties and taxes once your shipment reaches your country, when ordering from our website you agree to be responsible for these costs.
We reserve the right to hold an order if we think it is too hot (this usually means over 100 degrees Fahrenheit / 37 degrees Celsius). We also reserve the right to call you and ask if you want to upgrade your shipping if we believe that the warm weather will prevent your chocolate from arriving safely.
We highly recommend shipping to an address where someone will be able to receive the package when delivered. Many times DHL will not leave the package outside of your home. If that is the case, they will try to deliver the package three more times before it is returned to us.  If the DHL deliveryman does decide to leave the chocolate outside your home, it may be damaged by weather that is too hot, cold, rainy or humid. Suggestion: If you are shipping to someone's home and they will be at work during the day, consider shipping the chocolate to the recipient at their office.
Please be advised, we cannot ship to a PO Box. We can ship to physical addresses only!