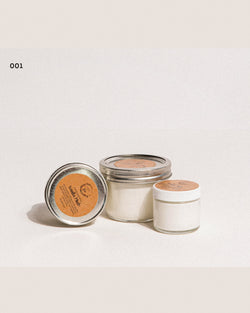 Vanilla Musk Lotion
AVAILABILITY:
Ships on December 16th, 2020 
HIGHLIGHT:
Creamy and moisturizing. Melts right into your skin!
SMELLS LIKE:
A mix of amber, sandalwood, vanilla, cedarwood, and subtle floral notes.
INGREDIENTS:
Distilled water, mango butter, glycerin, organic coconut oil, sweet almond oil, castor oil, fragrance, preservative (optiphen/ germaben/ phenonip)
INSTRUCTIONS:
Discontinue use at the first sign of irritation.
Made in Barbados, Handmade by Kae is a handcrafted, natural skincare and candle brand that focuses on providing eco-friendly and carefully crafted soaps, oils, and cleaning accessories. Made with women in mind, this family business came from the founder's need to find sustainably made skincare products with a pleasant scent and amazing feel to delicate skin. Driven by a passion for creativity and craftsmanship, this brand combines fun and function to create a line that is beautiful and nourishing.