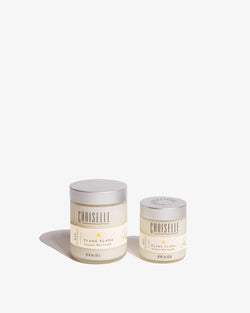 Ylang Ylang Coconut Candle
Coconut wax is created with the cold press extraction of coconut oil from the coconut meat. The oil then goes through a hydrogenation process resulting in a sustainable, cleaner, longer burning wax than soy. Our organic coconut wax candle is infused with organic ylang ylang essential oil, along with a wooden wick that has an enticing soft crackling sound while burning. Ylang Ylang is an exquisite floral scent with subtle notes of black pepper, ginger, lavender and lemongrass that will add an exotic, tropical fragrance to any room.
AVAILABILITY:
Ships on December 16th, 2020 
BURN TIME: 
40 hours
RECOMMENDED USE:
To create an ambience that fosters love, tranquility and restoration.
INGREDIENTS:
Organic Coconut Wax, Essential oils of organic Cananga Odorata (Ylang Ylang), Organic Cymbopogon Flexuosus (Lemongrass), Organic Lavandula Abrialis (Lavender), Organic Piper Nigrum (Black Pepper), Organic Zingiber officinale (Ginger)
Made in St Lucia, CHOISELLE by Nydia Norville is a handcrafted and artisanal luxury skincare line that uses natural elements from the Caribbean as ingredients. Out of love for Caribbean botanics, CHOISELLE fuses a deep knowledge of effective skincare regimens with recipes handed down from Nydia's Grandmother to craft effective solutions for chronically dry and troubled skin. With the hope to create skincare products that eliminate the need for harmful chemicals and synthetic fragrance, CHOISELLE uses natural ingredients from plant butters and oils with protective and restorative properties.