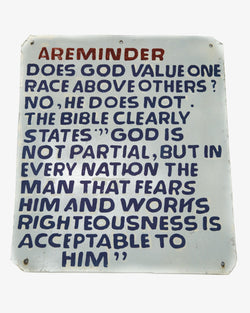 RANKINE | GOAT CURRY GALLERY
Does God Value One Race Above Others?
$295
Does God Value One Race Above Others? Paint on metal
46W x 53H cm
Contact us to acquire this special piece.
contact@papaiyo.com
PAPAIŸO X Goat Curry Gallery by Ania Freer
Ania Freer is a documentary filmmaker and curator based in Kingston, Jamaica. In 2019 she curated her first group exhibition entitled 'All That Don't Leave' to mark the end of a six-month curatorial fellowship through New Local Space Kingston. The show focused on unique craft practices and oral histories from seven artists working across Jamaica outside of mainstream knowledge. As a curator, Ania aims to give space to makers who have historically been marginalized from gallery spaces. Learn more about Goat Curry Gallery here.